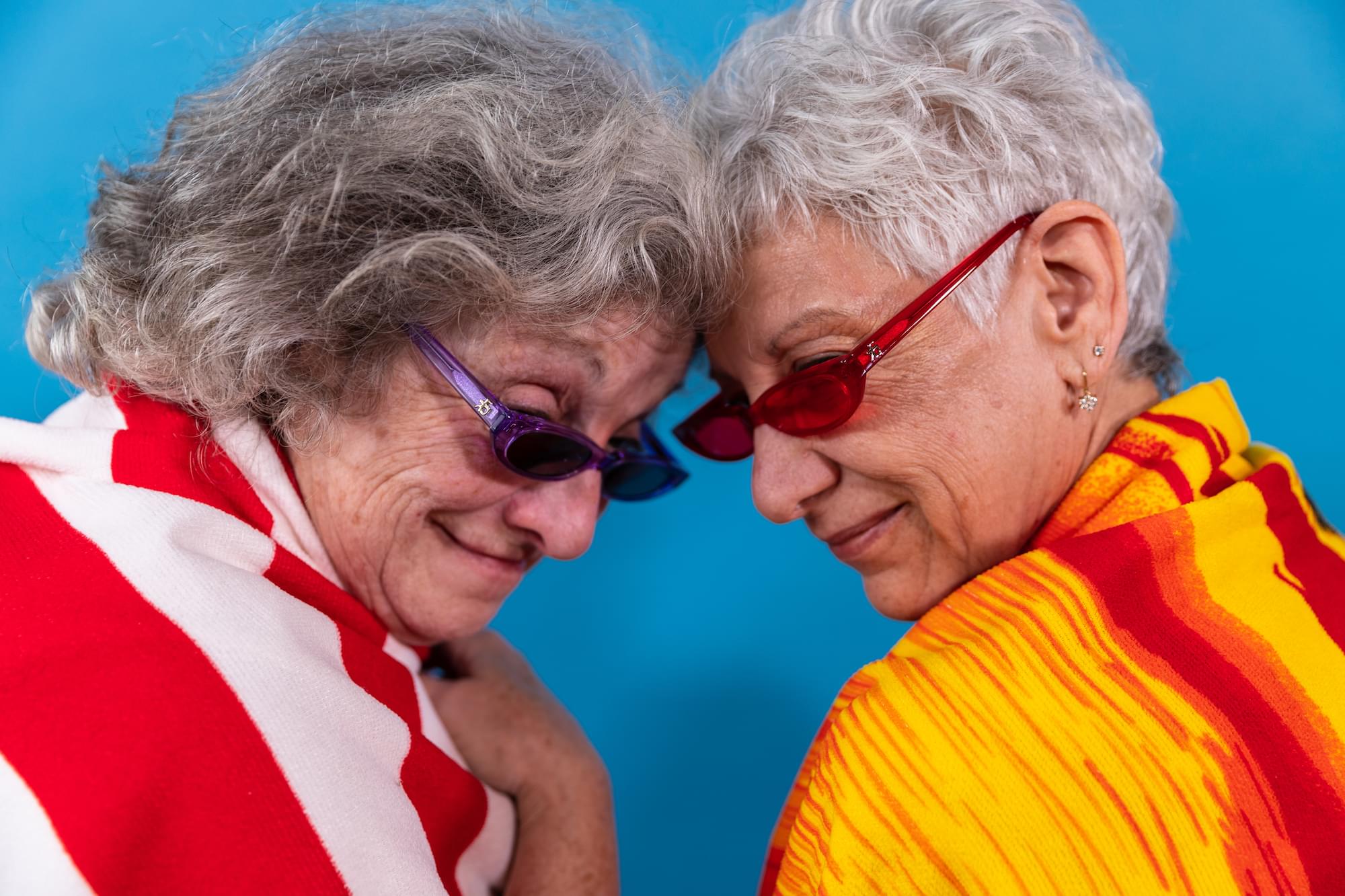 June 6, 2019
The chicken or the egg?
Someone young is behind the lens. But not in the front. The photographer waits, deliberates, makes adjustments, and snaps the shutter. The image is bright, the meaning penumbral: not quite light, not quite dark. Pixels—the smallest elements we can manipulate on a screen, millions of squares to make a whole, something seen by fledgling eyes. Silver halide was used to steal souls and store them in crystals. Paint was used to carve out human flesh. Hungry, we devour. Cheery, cherry reds and keyed up oranges and oceanic blues and tropical kitsch, souvenir-colour palettes. The women hide behind their sunglasses, shielded, but also defined by the obstruction of their eyes—the window to the soul, the key to learning their identities.
"Cheery, cherry reds and keyed up oranges and oceanic blues and tropical kitsch, souvenir-colour palettes."
Playfully, they refuse to give us the wisdom we have come to expect from the aged and experienced, lest we brush them off. The two women are having a blast: gabbing chatting laughing with one another, and looking their most outrageous. They are play-acting, "on vacation." There is no escaping the studio lights but the women seem unabashed, unafraid—they stare out at us from behind sunglasses that seem impossibly retro, confusingly hip: the language of ironic vacation fashion. The language of wealth. The images are seductive in their harshness, the clarity of the focus and the sheer amount of information that has been crammed into each image file, granting us a new type of vision—a new way to see sunscreen as we have never really seen it before. Light in all its revelatory ways, is in fact daring us to really look. There is no shelter in shadows. The women wear things that I want to wear—they wear things I hope I never wear. They are old-Hollywood-meets-pop-art-meets-high-fashion so high it is lowbrow: Tommy Bahama meets Fauvist sentiments. High becomes low and low becomes high and was it the chicken or the egg? Unreal colour palettes. Delicate eyebrows below silvery coiffures. Are these women snowbirds in Miami or hens braving the waters of Lake Huron in late summer? Never mind, they are having fun and their friendship is what is important to them: not the voyeuristic gaze of the young and the stylish.
"The women wear things that I want to wear—they wear things I hope I never wear."
Words: Fehn Foss
Photography: Joe Yates
Assist: Lauren Armstrong
Models: Naomi & Marlene