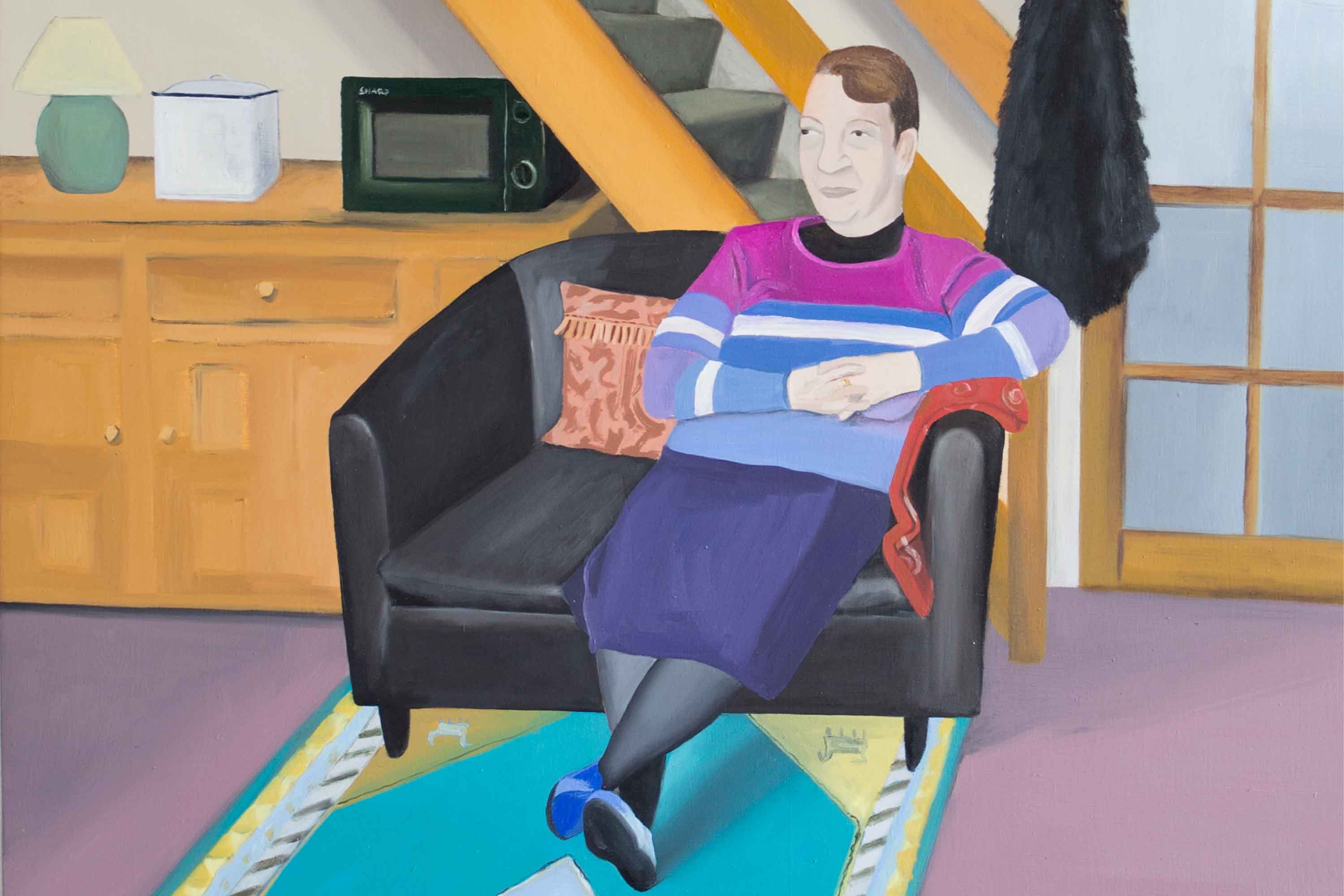 September 11, 2019
People Doing Stuff, Mostly Sitting
September 11, 2019
People Doing Stuff, Mostly Sitting
Evie O'Connor
(

b. 1993. Glossop, Derbyshire

)

graduated from London College of Fashion in 2015 with a BA in Fashion Textiles and recently completed her Masters in Painting at Glasgow School of Art. She is currently based in Manchester.
O'Connor's textiles background has heavily informed the stylistic and decorative qualities found in her work. She imagines both a beautiful and droll environment, always referencing her upbringing in the rural North of England whilst exploring the familiar domestic environments and figures she grew up surrounded by, believing value can be found in the exploration and unveiling of this personal experience. Her practice focuses on themes of isolation, class and identity with portraiture at the forefront of her painting. For her, the study of people is an important and highly precious form of documentation, choosing to paint those closest to her. The mood is intimate, private, relaxed and often a little surreal with a delicate balance between the stifling banal and an unfamiliar exoticism. A strange naivety lingers in her style of painting, subtly referencing historical selftaught portrait artists and always with a nod to the outsider artists she so highly resonates with. Her work can be crass and political at times, vulgar statements surround crude portraits of party leaders painted on large wooden drawers or ashtrays, surrounded by symbols of privilege and wealth. Her love of folk art can be seen in the collection of objects used as surface for the paint. Plates and vases are adorned with scenes and symbols in bold, evocative colours, creating specific decorative objects usually found in the home.
Michael Nyarkoh
Evie O'Connor
What are you listening to right now?
Everything off Euphoria.
How is the art scene in the UK feeling, and how much of the political climate is affecting the energy put to your work?
It seems to me there aren't enough eyes looking outside of London for artists making great work. I've actually been told that being an artist in Manchester isn't a 'desirable' place to be. But by being a 'London-based artist' comes with a whole host of privilege that frankly I just don't have. Young, working class, regional artists have to work 10 times as hard as their London-based peers because we don't have the luxury of the art world on our doorstep. With the Conservative party in power, I cant help but feel whatever field you're in, those born into wealth with a good education are rewarded (see new report 'Elitist Britain'). I think people are sorely mistaken in believing the art world is this super democratic industry, when actually its built to reward the privileged just like any other business.
What does growth look like to you?
Growth is continuing to explore, taking new paths, reflecting and refining.
Do you choose the setting of the portraits, or do your subjects decide that?
I always choose the settings and I tend to favour domestic environments belonging to the sitter as I think this adds so much richness to the narrative of the portrait. Also people are naturally much more relaxed in their own home which translates into a purer depiction. On the other hand I also enjoy playing with false settings such as hotel rooms. The decor and layout have a filmic, set-like quality to them that I really enjoy playing with, a temporary and fleeting place that feels somewhere between reality and fantasy.
"I think people are sorely mistaken in believing the art world is this super democratic industry, when actually its built to reward the privileged just like any other business."
What is the constant story you are trying to tell with your work?
I think through my work I'm trying to honour my working class heritage. For the longest time I carried so much shame around this, that now I want to celebrate it. Fine art isn't a path a lot of people I grew up with were encouraged to take so I think theres absolutely a lack of w/c voices in the art world. For this reason I think its important to explore my personal history which I've grown to accept is as valid and important as any other work.
You've done work with plates and garments and have a degree in textiles. What would a Evie Connor X Ikea collection look like if that opportunity came up?
I love this idea as I think great art and design should be accessible to everyone. I'd definitely have some painted plates adorned with beautiful Swedish landscapes, high pile rugs with bold, graphic landscapes and Falu red houses and a huge linen throw you could have over your sofa or bed adorned with.. more landscapes! All in a palette of milky sky blues, cerulean, forest green, lemon, falu red and lead white. I absolutely adore painted furniture but this needs to be bespoke, maybe I could do a residency in store where I would paint peoples furniture they just purchased? I would love that!
"Growth is continuing to explore, taking new paths, reflecting and refining."
Interview: Michael Nyarkoh